"Art is Gold – A Tribute to Fay Gold" to Raise Critical Funds for Lifesaving Respiratory Research and Treatment at National Jewish Health
---
DENVER, CO —
National Jewish Health today announced a new event "Art is Gold – A Tribute to Fay Gold," which will be held Sept. 19, 2023, at the Woodruff Arts Center in Atlanta. National Jewish Health, founded 124 years ago in Denver, is the leading respiratory hospital in the country focused on care, research and innovation for lung, heart, immune and related illnesses.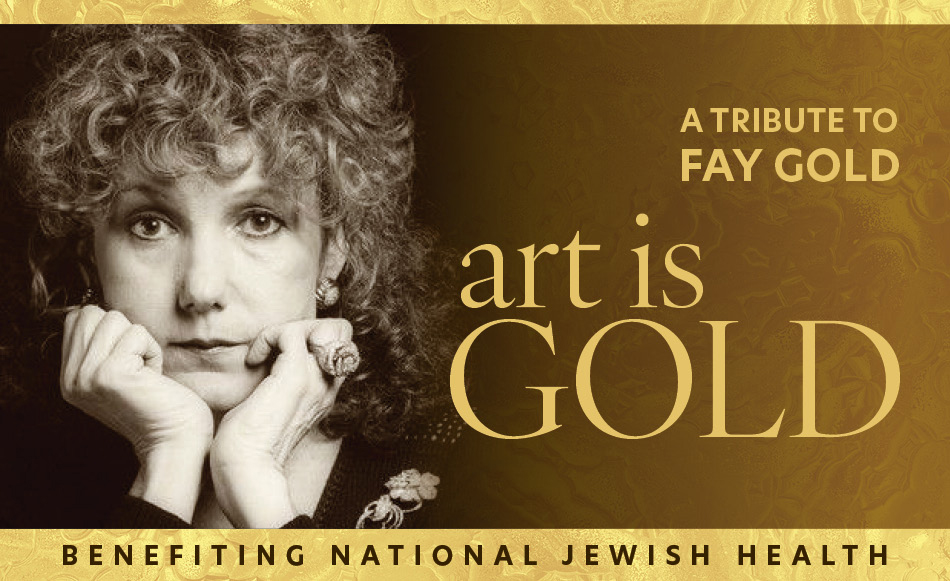 The gala evening will feature the iconic art dealer and philanthropist Fay Gold and recognize her longtime support of National Jewish Health. Gold's involvement with the organization dates back to the 1950s when she participated in one of the early fundraisers held in New York City, an event she co-chaired.

"We have always appreciated the support and involvement of our friends around the country," explained Michael Salem, MD, president and CEO of National Jewish Health. "Fay is an amazing advocate for our organization, supporting us as we continue to serve as a resource for people who come to us in need of help. We are pleased to honor her at this unique event in Atlanta."

Fay Gold has been one of the area's most important figures promoting contemporary art. "Fay has been trailblazing and trendsetting since her early 20's. Her remarkable taste has been at the forefront of the contemporary art scene in the Southeast, and our event is inspired by her legacy of captivating, inspired and innovative art," said Anita Thomas, Atlanta philanthropist and chair of the event. "We are looking forward to seeing many of the artists and collectors Fay has worked with, as well as folks from all over who understand that 'Breathing Science is Life'."

Thomas credits Fay Gold with introducing her to National Jewish Health when her own health was severely compromised. She attributes her recovery to treatment at the Hospital.

The funds raised from this event will support the Fay Gold Respiratory Research Fund at National Jewish Health, to help patients with complex lung conditions like Thomas's.

"I am so honored to have National Jewish Health join me in celebrating what has been a wonderful gift of a life," said Gold. "I remember the first fundraising gala National Jewish Health held in New York City at The Plaza Hotel on New Year's Eve in 1956. What a serendipitous moment to see it come full circle. I want to thank all my amazing friends at National Jewish Health and am so delighted this celebration can help provide treatments and fund more research and advancement."

For more information, including how to be a part of the event, please reach out to Marc Krause at (646) 373-1744 krausem@njhealth.org, or to A. Brown-Olmstead Associates by phone at (404) 659-0919 or by email at amanda@newaboa.com


National Jewish Health is the leading respiratory hospital in the nation. Founded 124 years ago as a nonprofit hospital, National Jewish Health today is the only facility in the world dedicated exclusively to groundbreaking medical research and treatment of children and adults with respiratory, cardiac, immune and related disorders. Patients and families come to National Jewish Health from around the world to receive cutting-edge, comprehensive, coordinated care. To learn more, visit the media resources page.
Media Resources
---
We have many faculty members, from bench scientists to clinicians, who can speak on almost any aspect of respiratory, immune, cardiac and gastrointestinal disease as well as lung cancer and basic immunology.
Media Contacts
---
Our team is available to arrange interviews, discuss events and story ideas.