Beaux Arts 'Vegas' Ball Raises $3.2 Million to Benefit National Jewish Health
---
DENVER, CO —
The 26th annual Beaux Arts Ball presented by the Morgridge Family Foundation raised a record $3.2 million to support National Jewish Health, the leading respiratory hospital in the nation. The March 4, 2023 event was attended by over 1,000 guests and honored Grand Marshals Anne and Rich Baer, Rita and Navin Dimond, Vicki and Trygve Myhren, and Leslie Stanford and Don Bailey for their long-time commitment to philanthropy and service to the community.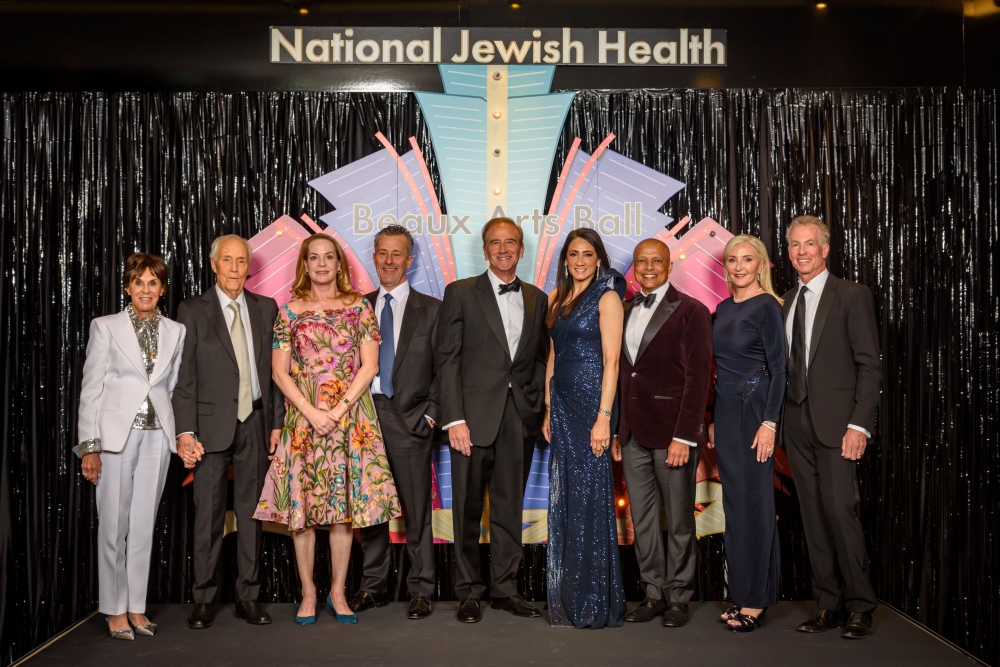 From left to right: Vicki Myrhen, Trygve Myrhen; Anne Baer, Rich Baer; Michael Salem, MD; Rita Dimond, Navin Dimond; Leslie Stanford, Don Bailey

"We had the honor of recognizing a tremendous group of people who are distinguished in the community through their leadership and service," said Michael Salem, MD, president and CEO of National Jewish Heath. "Our Grand Marshals are people who have stepped up often to help and to lead. We are deeply appreciative of all they do for the greater community and for National Jewish Health."

This year, the Beaux Arts Ball also provided the backdrop for presenting the National Jewish Health Chairman's Award to Blair Richardson, founder and chief executive officer of Bow River Capital and a long-time member of the National Jewish Health Board of Directors as well as past Chair of the Board. The award recognized Richardson's many of years of leadership and service to the institution. He has served on the Board of Directors since 2009, including as board chair from 2016 to 2018. Richardson was also Campaign Chair for six years, leading the largest fundraising campaign in National Jewish Health history, which raised $256 million.

"This Chairman's Award is a measure of our esteem and appreciation for the lasting impact Blair has made on National Jewish Health," said Steve Kris, who currently serves as Board Chair and presented the award.

During the evening's program, guests learned about Ella, a pediatric patient at National Jewish Health and an aspiring young performer, whose severe asthma threatened to keep her from not only acting and singing, but also from her daily activities as a high school student. Chris Daniels, a Colorado music legend, shared his experience with interstitial lung disease, a progressive scarring of the lungs, which he developed as a complication of cancer treatment. Ella, Chris and many other patients facing the most complex lung diseases have found answers – and hope – thanks to the personalized approach, advanced treatments and breakthrough discoveries that have made National Jewish Health the place to go for life-changing care.

Guests were entertained throughout the evening with a "Vegas" themed program of music, choreographed performances and décor that evoked vintage Las Vegas glamour. Musical and dance numbers from Sinatra, Elvis and Elton John captured a journey through the entertainment capital of the world.

The Morgridge Family Foundation was the presenting sponsor for the evening. The Baer Family, Steve and Elizabeth Kris, and the Tuchman Family Foundation were the Viva Las Vegas Sponsors.
See a complete list of sponsors.



National Jewish Health is the leading respiratory hospital in the nation. Founded 124 years ago as a nonprofit hospital, National Jewish Health today is the only facility in the world dedicated exclusively to groundbreaking medical research and treatment of children and adults with respiratory, cardiac, immune and related disorders. Patients and families come to National Jewish Health from around the world to receive cutting-edge, comprehensive, coordinated care. To learn more, visit the media resources page.
Media Resources
---
We have many faculty members, from bench scientists to clinicians, who can speak on almost any aspect of respiratory, immune, cardiac and gastrointestinal disease as well as lung cancer and basic immunology.
Media Contacts
---
Our team is available to arrange interviews, discuss events and story ideas.