Annual Hoops and Hoopla Event Raises $155,000 for National Jewish Health
Funds to support Morgridge Academy, school for children with chronic illnesses
---
DENVER, CO —
On April 1, 2023, supporters of National Jewish Health came together to raise $155,000 for the Morgridge Academy, a K-8 school for children with chronic illnesses located on the campus of National Jewish Health. The annual Hoops and Hoopla event was held at Left Field Club Bar at Coors Field. Morgridge Academy, the only school of its kind in the country, is a tuition-free K-8 school for students who have a chronic illness. Students learn to manage their diseases while succeeding academically.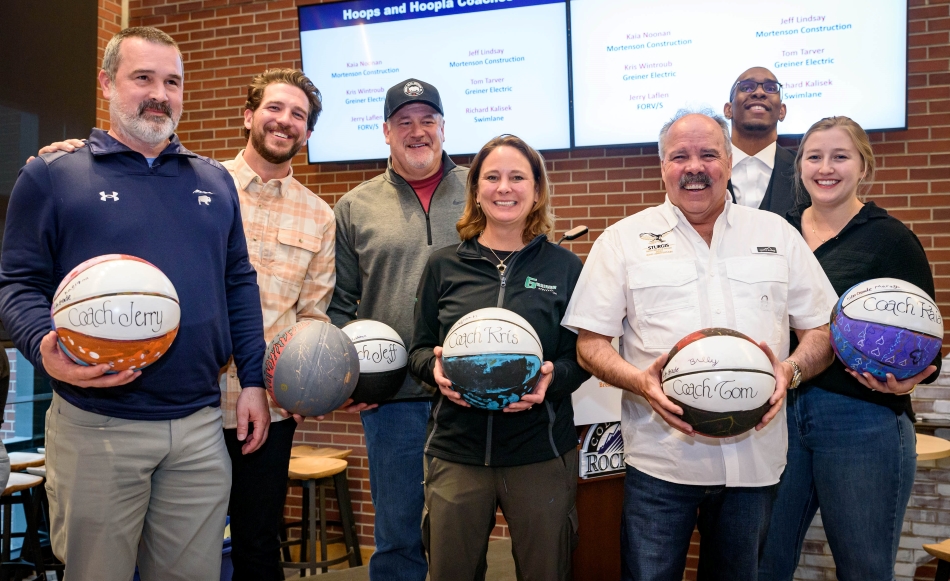 From left to right: Jerry Laflen, Richard Kalisek, Jeff Lindsay, Kris Wintroub, Tom Tarver, Orlando Franklin and Kaia Noonan

The fan's night out event, presented by Greiner Electric, is held annually during the men's college basketball semifinal games. The evening program, scheduled between the two games, was emceed by Orlando Franklin, former Super Bowl champion and radio host.

"The students at Morgridge Academy are experiencing an education that goes far beyond what they would receive elsewhere. They are learning how to be their best selves — in the work they do, how they treat others and in their physical and mental health," said Jen McCullough, director of education at Morgridge Academy.

Guests at the event watched the semifinal match-ups on screens around the venue. While watching the best of college basketball, guests enjoyed a gourmet buffet and participated in a silent auction, along with arcade and casino games. More than 350 supporters attended and more than 70 companies contributed to the event's success.

Kris Wintroub and Tom Tarver participated as volunteer coaches of Team Greiner Electric and were named MVPs for raising nearly $100,000 in sponsorships, ticket sales and donations for the event. Greiner Electric has been the presenting sponsor since 2007.

The entire Hoops and Hoopla volunteer coaching lineup included Craig Gallogly of QED; Gunnar Jacobs of Monigle; Richard Kalisek of Swimlane; Jerry Laflen of FORVIS; Jeff Lindsay of Mortenson Construction Company; Kaia Noonan of Mortenson Construction Company; Tom Tarver of Greiner Electric; and Kris Wintroub of Greiner Electric.

Also supporting the event were MVP Sponsors ̶ FORVIS and Joe Nelson; Sports Bar Sponsors ̶ Consolidated Electrical Distributors and Graybar; and Slam Dunk Sponsors ̶ Mortenson Construction, The Lighting Agency, Rexel Electric Supply, and Toni and David Roitman.

See the full list of sponsors.

Morgridge Academy at National Jewish Health is a unique, free day school for students with chronic illnesses who are in kindergarten through eighth grade. The school's mission is to provide a safe, friendly and healthy school environment where students succeed academically, medically and socially.


National Jewish Health is the leading respiratory hospital in the nation. Founded 124 years ago as a nonprofit hospital, National Jewish Health today is the only facility in the world dedicated exclusively to groundbreaking medical research and treatment of children and adults with respiratory, cardiac, immune and related disorders. Patients and families come to National Jewish Health from around the world to receive cutting-edge, comprehensive, coordinated care. To learn more, visit the media resources page.
Media Resources
---
We have many faculty members, from bench scientists to clinicians, who can speak on almost any aspect of respiratory, immune, cardiac and gastrointestinal disease as well as lung cancer and basic immunology.
Media Contacts
---
Our team is available to arrange interviews, discuss events and story ideas.