Art is GOLD Gala Raises $550,000 for National Jewish Health
---
DENVER, CO —
On September 19, 2023, National Jewish Health, the leading respiratory hospital in the nation, held Art is GOLD: A Tribute to Fay Gold, at the Woodruff Arts Center in Atlanta. The gala and art retrospective raised $550,000, establishing The Fay Gold Respiratory Research Fund at National Jewish Health to support care and research for children and adults.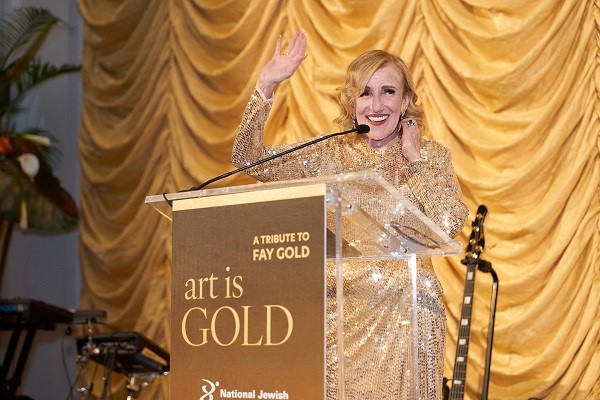 At the event, Fay Gold was recognized as an icon of contemporary arts in Atlanta and around the world. Anita and Michael Thomas co-chaired the event, in appreciation of Gold who introduced them to National Jewish Health when Anita's health was severely compromised by a complex lung condition. She attributes her recovery to the treatment she received at the hospital.

Known as a trailblazer and trendsetter in the arts, Gold is credited with presenting groundbreaking exhibitions that popularized the work of numerous artists, including Jean-Michel Basquiat, Cindy Sherman and Robert Mapplethorpe. In addition, she is recognized as a philanthropist, including her longtime support of National Jewish Health. In 1956, she co-chaired one of the institution's early fundraisers, a New Year's Eve gala, which was held in New York City.

"Fay Gold has discovered the talent and potential of some of the most noteworthy contemporary artists of our time, forever changing their lives," said Rich Schierburg, longtime Board member and former Board Chair, who spoke at the event. "Similarly, at National Jewish Health, we have made groundbreaking discoveries in medical science, forever changing the lives of millions of children and adults."

Julie and Paul Hagedorn, who serve on the National Jewish Health Council of National Trustees, and Camille Love, executive director of the City of Atlanta Mayor's Office of Cultural Affairs, were honorary co-chairs of the event.

The evening showcased 30 artists who have been represented by Gold, and each donated a piece of art to raise funds for the silent and live auctions. Guests browsed and bid on their favorites in the collection, and enjoyed dinner and entertainment by SCAD Bee Sharps, a vocal performance ensemble of the Savannah College of Art and Design.


National Jewish Health is the leading respiratory hospital in the nation. Founded 124 years ago as a nonprofit hospital, National Jewish Health today is the only facility in the world dedicated exclusively to groundbreaking medical research and treatment of children and adults with respiratory, cardiac, immune and related disorders. Patients and families come to National Jewish Health from around the world to receive cutting-edge, comprehensive, coordinated care. To learn more, visit the media resources page.
Media Resources
---
We have many faculty members, from bench scientists to clinicians, who can speak on almost any aspect of respiratory, immune, cardiac and gastrointestinal disease as well as lung cancer and basic immunology.
Media Contacts
---
Our team is available to arrange interviews, discuss events and story ideas.