Bella Sera Raises More Than $400,000 to Benefit National Jewish Health
---
DENVER, CO —
On August 7, 2023, National Jewish Health, the leading respiratory hospital in the nation, held their annual Bella Sera, an evening of music and celebration in the Aspen community. The event raised more than $400,000 to support National Jewish Health and the children and adults it serves in Colorado and across the country. For 16 years, Bella Sera has brought together the local community to support the mission of National Jewish Health and its longtime connection to the Aspen Valley.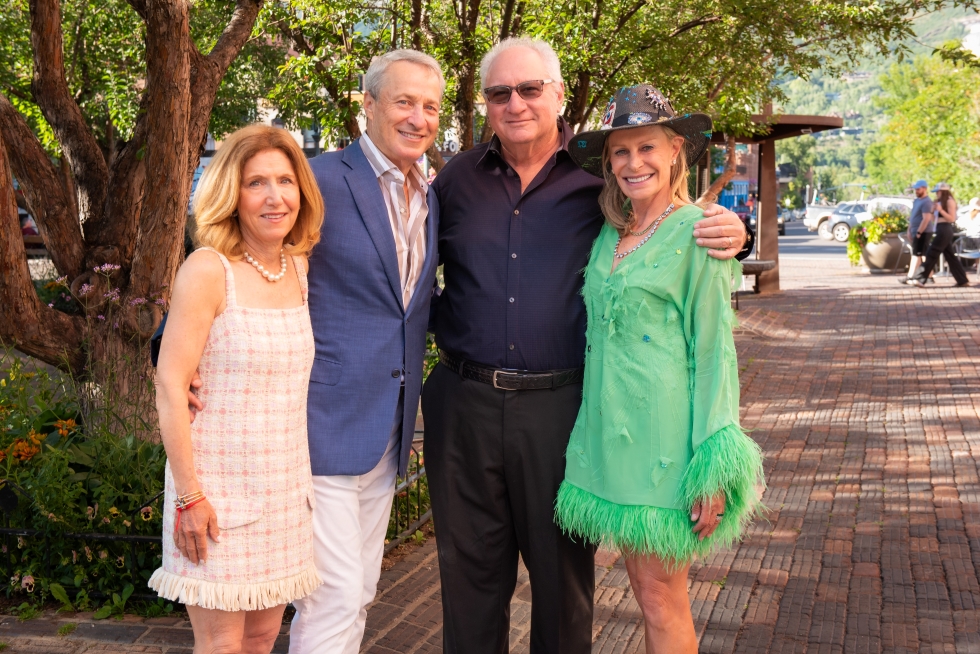 Bella Sera honorees Suzi & Jon Diamond and Russ & Leslie Robinson

At this year's event, presented by Nancy and Richard Rogers, National Jewish Health honored Aspen residents Susie and Jon Diamond and Leslie and Russ Robinson, with the prestigious Humanitarian Award. The award recognizes individuals across the country who have made a significant civic and philanthropic impact in their communities.

"We danced the whole evening to the top hits of the 60s, 70s and 80s. But more important, those who attended learned about the outstanding work of Jewish National Health," said Susie Diamond. "We were honored to be a part of such a wonderful evening, and thank all our family and friends for making it a huge financial success."

Alan Altman, MD, a member of the National Jewish Health Council of Trustees and one of the co-charirs for the event, presented the Diamonds with their award saying, "Wherever they call home, they give back." This includes their generous support of Aspen Valley Hospital Diamond Family Imaging Center as well as The Ohio State University and University of Miami Sylvester Cancer Hospital for the Diamond Hereditary Cancer Prevention Center.

"It was a fun-filled evening, and we were happy to help in making National Jewish Health even more capable of providing its excellent respiratory care," said Leslie and Russ Robinson.

David Gitlitz, who also serves as a Trustee and was a co-chair for this event, introduced the Robinsons and presented their award in tribute to their generous commitment of time, expertise and money to several organizations. Those organizations include The Jewish Federation of Greater Houston's Jerome Robinson Family Young Adult Division and other Jewish communities in the U.S. and abroad. They also serve on several educational, foundation and other nonprofit boards.

Guests gathered at Aspen's Belly Up to enjoy cocktails and lively entertainment. They danced to the sounds of The Number Ones –TNO – featuring number one hits and timeless classics from the 1960s through the 1980s.
In addition to Dr. Altman and Gitlitz, the event co-chairs, included: Judi Altman; Denise and Warren Cohen; Barbara and Aaron Fleck; Golda and Shelly Friedstein; Madeleine Larson; and Dorothy and Hal Thau. Each of these individuals also represents the Aspen area on the National Jewish Health Council of Trustees.
For more information please contact Kiley Long at 303.728.6504 or LongK@njhealth.org.


National Jewish Health is the leading respiratory hospital in the nation. Founded 124 years ago as a nonprofit hospital, National Jewish Health today is the only facility in the world dedicated exclusively to groundbreaking medical research and treatment of children and adults with respiratory, cardiac, immune and related disorders. Patients and families come to National Jewish Health from around the world to receive cutting-edge, comprehensive, coordinated care. To learn more, visit the media resources page.
Media Resources
---
We have many faculty members, from bench scientists to clinicians, who can speak on almost any aspect of respiratory, immune, cardiac and gastrointestinal disease as well as lung cancer and basic immunology.
Media Contacts
---
Our team is available to arrange interviews, discuss events and story ideas.