Black & White Ball Raises More Than $460,000 to Benefit National Jewish Health
---
DENVER, CO —
On June 24, 2023, National Jewish Health, the leading respiratory hospital in the nation, held their annual Black & White Ball with support of the Los Angeles professional business community. The event raised more than $460,000 to support National Jewish Health and the children and adults it serves across the country.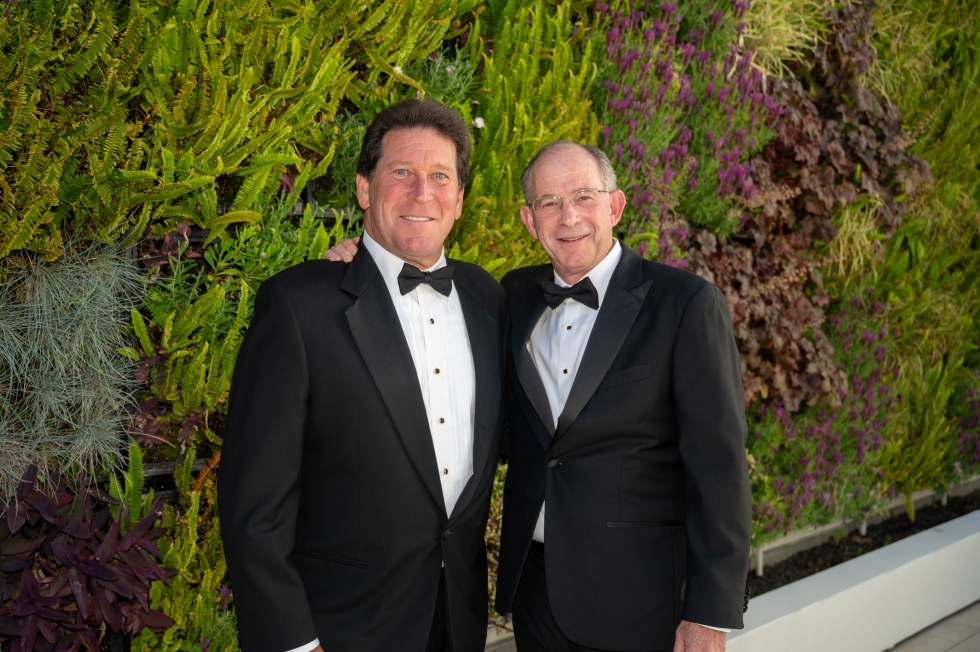 Jim Carlin and David Rainer were honored at the 2023 LA Black & White Ball.

At the event, National Jewish Health honored Jim Carlin of Holthouse Carlin & Van Trigt LLP, and David Rainer of Bank of Southern California, with the prestigious Humanitarian Award, which recognizes individuals across the country who have made significant civic and charitable contributions to their communities and professions.

More than 350 of Los Angeles' top attorneys, CPAs, finance professionals and executives in the apparel, real estate, investment banking and entertainment industries gathered at the Beverly Hilton for the Motown-themed event, presented by Bank of Southern California. For more than 50 years, the Los Angeles professional services industry has gathered for a dinner to support National Jewish Health and honor members of their profession.

"This event and the award have such a long history," said Carlin. "It is truly meaningful for me to receive this recognition. It puts me in good company with those who have been honored before me."

Michael Rosenthal, honoree co-chair of the event, presented both honorees with their Humanitarian Awards. Carlin was recognized for his accomplishments as a founding partner of one of the country's top 40 accounting firms and his civic involvement, including several years as a committee member for the Breath of Life Golf Classic, benefiting National Jewish Health.

Rainer's award was in tribute to his distinguished career in financial services, business and community leadership, and his dedication to charitable causes in Los Angeles area that enrich the lives of youth, support arts and culture and empower underserved communities.

Carlin and Rainer visited the hospital's main health campus in Denver earlier this year. "There is a very special feeling at National Jewish Health," said Rainer. "Brilliant physicians and scientists are all working together to figure out how to make people healthier."

The dinner co-chairs, who serve on the National Jewish Health Council of Trustees and are past honorees, included: Gail K. Bernstein; Sydnee Breuer, Rosenthal & Rosenthal of California; Robert Ezra of Freeman, Freeman & Smiley LLP; Ronald S. Friedman of Marcum LLP; William Mark Levinson of Carlton Fields LLP; and Debbie Steinberg. The honoree co-chair was Michael Rosenthal of Baronthal Ventures. In addition to Bank of Southern California, the Rainer Family, and Heidi and John Farkash were also presenting sponsors.

For event information please contact Keri Henning at 818.905.1300 or HenningK@njheatlh.org.


National Jewish Health is the leading respiratory hospital in the nation. Founded 124 years ago as a nonprofit hospital, National Jewish Health today is the only facility in the world dedicated exclusively to groundbreaking medical research and treatment of children and adults with respiratory, cardiac, immune and related disorders. Patients and families come to National Jewish Health from around the world to receive cutting-edge, comprehensive, coordinated care. To learn more, visit the media resources page.
Media Resources
---
We have many faculty members, from bench scientists to clinicians, who can speak on almost any aspect of respiratory, immune, cardiac and gastrointestinal disease as well as lung cancer and basic immunology.
Media Contacts
---
Our team is available to arrange interviews, discuss events and story ideas.