New Respiratory Therapy Programs Launch This Fall
Thomas Jefferson University in Philadelphia and National Jewish Health in Denver to offer an innovative program to help address staffing shortages nationwide.
---
DENVER, CO —
Thomas Jefferson University's College of Health Professions in Philadelphia and National Jewish Health in Denver have teamed up to offer a pair of innovative Respiratory Therapy programs at a time when hospitals across the nation are facing serious shortages of health care professionals.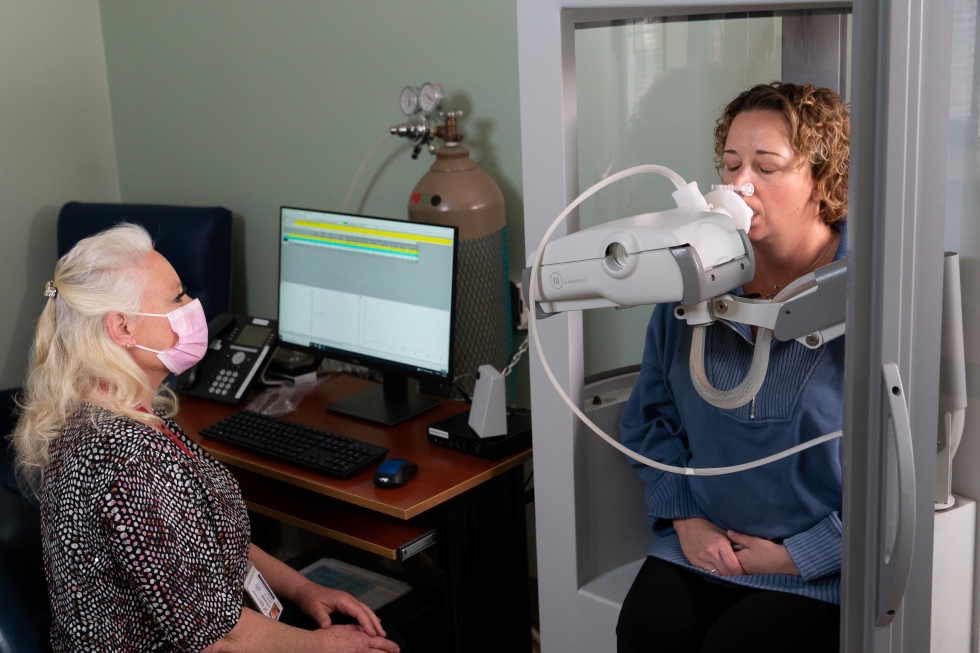 Program Director Jerin Juby explains that there are two tracks available for students within the program, which will launch for the fall 2023 semester, in collaboration with National Jewish Health, the leading respiratory hospital in the nation.

The Entry Into Practice BS in Respiratory Therapy program will focus on those looking to enter the field and will include online didactic courses and in-person labs and clinical training provided in medical centers in Philadelphia, New Jersey, Delaware and Denver.

The Degree Advancement BS in Respiratory Therapy program will allow licensed Registered Respiratory Therapists (RRT) who have completed an Associate Degree in Respiratory Therapy accredited by the Commission on Accreditation for Respiratory Care (CoARC). This is the first and only accredited degree advancement program in Pennsylvania to earn a BS in Respiratory Therapy. The online model enables students to enroll from anywhere and continue working as they complete their bachelor's degree.

"The Entry Into Practice program is great for brand-new respiratory students who want to become respiratory therapists, for those looking at it as a very rewarding career," Juby said. "The Degree Advancement program will provide career progression that will eventually be required for all respiratory therapists."

"The idea for this unique collaboration was inspired by staffing shortages not only in Philadelphia and Denver, but also everywhere in the field. That issue has become particularly stark in the past five years," said Karsten Roberts, Jefferson respiratory therapy program's director of clinical education.

"Between burnout and tens of thousands of respiratory therapists reaching retirement age, we just need more respiratory therapists all over," Roberts said. "This program will provide pathways for those interested in the field and for those already practicing to advance their careers."

The program deepens the relationship between Jefferson and National Jewish Health, who also partnered in 2017 to create the Jane and Leonard Korman Respiratory Institute.

The Jane and Leonard Korman Respiratory Institute leverages the strengths of each organization and defines best practices for treatment and research of pulmonary and related diseases, including COPD, asthma, interstitial lung disease, sarcoidosis and infectious respiratory diseases.

"The Respiratory Institute brings together physicians and researchers who collaborate to bring more value to patients," explains James Finigan, MD, director of the Respiratory Centers of Excellence and co-medical director of the Respiratory Therapy Program for National Jewish Health. "It has been a strong partnership that led us to broaden our relationship with Jefferson and create this much-needed respiratory therapy training program."

More information about the program, how to apply, and the CoARC accreditation process is available via the program's website.

National Jewish Health is the leading respiratory hospital in the nation. Founded 124 years ago as a nonprofit hospital, National Jewish Health today is the only facility in the world dedicated exclusively to groundbreaking medical research and treatment of children and adults with respiratory, cardiac, immune and related disorders. Patients and families come to National Jewish Health from around the world to receive cutting-edge, comprehensive, coordinated care. To learn more, visit the media resources page.
Media Resources
---
We have many faculty members, from bench scientists to clinicians, who can speak on almost any aspect of respiratory, immune, cardiac and gastrointestinal disease as well as lung cancer and basic immunology.
Media Contacts
---
Our team is available to arrange interviews, discuss events and story ideas.