Night & Day Golf Classic Raises More Than $280,000 for Morgridge Academy
---
DENVER, CO —
On June 25-26, 2023, business and philanthropic leaders gathered for dinner at Shanahan's and golf at the Sanctuary golf course to support Morgridge Academy at National Jewish Health. The sold out annual Night & Day Golf Classic raised more than $280,000.

Proceeds from the event benefit Morgridge Academy, a kindergarten through 8th grade school for chronically ill children, located on the campus of National Jewish Health. Morgridge Academy is the only school of its kind in the country providing a healthy environment where students learn to manage their illnesses and succeed academically, medically and socially.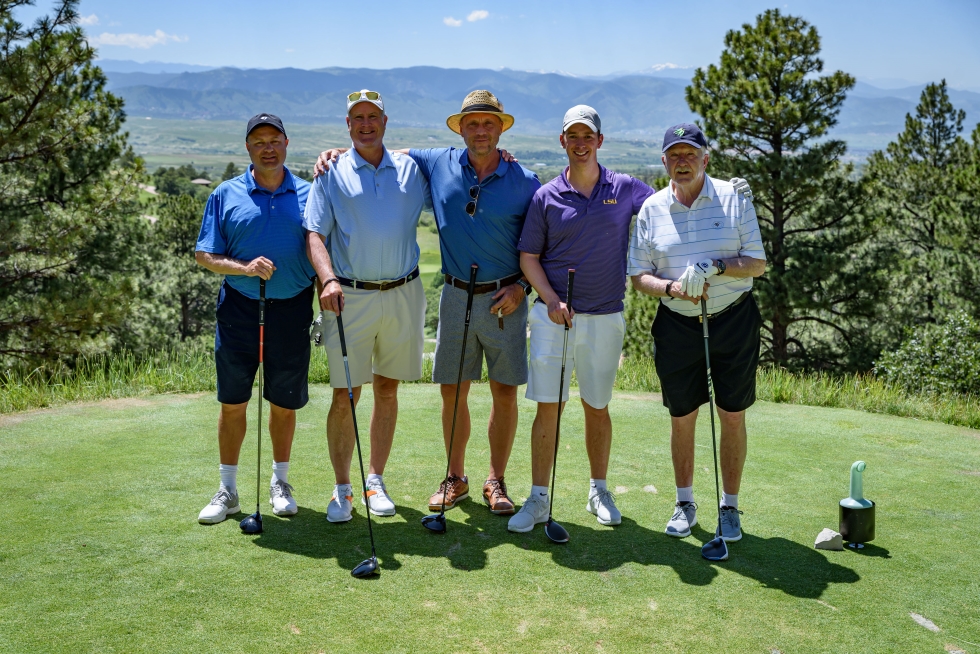 From left to right: Marc Lumpkin, Stanton Dodge, Paul Widler, Derek Kopp and Gary Kopp participated at Night & Day Golf Classic, benefiting Morgridge Academy at National Jewish Health.

During the program at Shanahan's, National Jewish Health Chair of the Board of Directors Steve Kris shared the story of a family with three young girls in the school. He recounted that all three struggled in a traditional school environment because chronic illness caused them to miss time in class or be fearful of life-threatening allergens during lunch.

"At Morgridge Academy, the girls now have a team of nurses, teachers, a social worker and a kitchen staff that keeps them healthy and teaches them how to manage their conditions," said Kris. "Along with their friends, the girls now fully participate in all school activities without being hindered by illness."

Co-chairs of the event were Marc Steron, managing partner of Shanahan's, chair of the National Jewish Health Development Board and longtime member of the National Jewish Health Board of Directors, along with Vic Lombardi of Altitude Sports.

In addition to Lombardi and Steron, the National Jewish Health Night & Day Golf Classic committee included Joe Assell, Stanton Dodge, David Engleberg, Brad Farber, Kyle Keefe, Bill Lamphere, Kathy Lee, Laszlo Pook, Eddie Robinson, Meyer Saltzman, John Spagnola and Allen Walters.

RE/MAX was the presenting sponsor of the tournament. The contributing sponsors were Shanahan's Steakhouse and Sanctuary golf course, while the Grand Slam Sponsors were Lindsey and Stanton Dodge. Birdie Foursome sponsors included: Alliant Insurance Services; Cator Ruma & Associates, CO; Davis Partnership Architects; Greiner Electric; Morgridge Family Foundation; and JVA Consulting Engineers. See the complete list of sponsors online.

Morgridge Academy at National Jewish Health is a unique, free day school for chronically ill students in kindergarten through eighth grades. Its mission is to provide a safe, friendly and healthy school environment where students succeed academically, medically and socially.


National Jewish Health is the leading respiratory hospital in the nation. Founded 124 years ago as a nonprofit hospital, National Jewish Health today is the only facility in the world dedicated exclusively to groundbreaking medical research and treatment of children and adults with respiratory, cardiac, immune and related disorders. Patients and families come to National Jewish Health from around the world to receive cutting-edge, comprehensive, coordinated care. To learn more, visit the media resources page.
Media Resources
---
We have many faculty members, from bench scientists to clinicians, who can speak on almost any aspect of respiratory, immune, cardiac and gastrointestinal disease as well as lung cancer and basic immunology.
Media Contacts
---
Our team is available to arrange interviews, discuss events and story ideas.