Rev the Runway Raises More Than $325,000 for National Jewish Health
---
DENVER, CO —
The sixth annual Rev the Runway fashion show was held on November 2, 2023, with more than 450 guests in attendance. The sold-out event raised more than $325,000 to support National Jewish Health, the nation's leading respiratory hospital. Funds raised will help provide compassionate care for children and adults and support groundbreaking research in respiratory, cardiac, immune and related diseases. The event was presented by Neiman Marcus and Mercedes-Benz of Denver, where the event was hosted.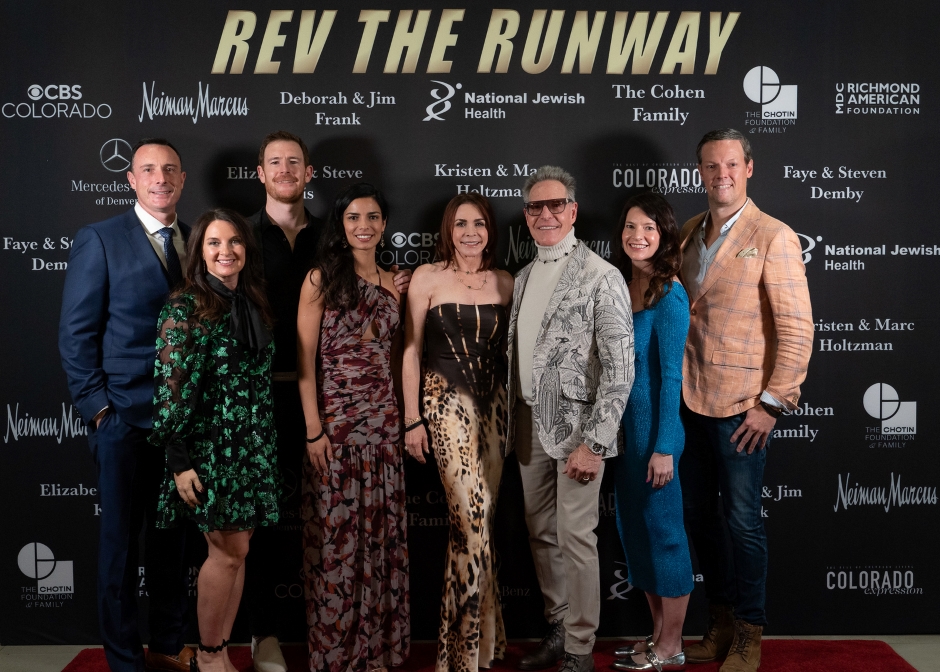 This year, the Cohen Family was the title sponsor and co-chaired the event as a family. Warren Cohen, a member of the National Jewish Health Board of Directors; Denise Cohen, who serves on the National Council of Trustees; and their three children, Max, Dan and Emily, were involved in planning the style-driven evening. At the event, they welcomed guests and thanked all for their support of National Jewish Health.
"National Jewish Health has been an important institution to us. We were honored to chair this year's Rev the Runway event, especially as a family," said Warren Cohen. "Being able to reach a multigenerational audience is so important for our future," he added.
Cohen had the honor to introduce Aaron Gordon, power forward for the world-champion Denver Nuggets, who made a special guest appearance to present fashion awards to guests selected in three categories: Best Dressed, Vintage Couture and Fashion Forward.
In addition to the Cohens, a dedicated committee of more than 40 volunteers, also known as "The Drivers," helped to make the event a success. Lauren Whitney of CBS Colorado led the evening's program as emcee, which she has done every year since Rev the Runway began. She also served on the committee as a Driver. The Mercedes-Benz of Denver's showroom was transformed into a high-fashion runway and featured exclusive looks from favorite and emerging designers, including Brunello Cucinelli, Alexander McQueen, Dolce & Gabbana, Ralph Lauren and Giorgio Armani.
Throughout the evening, guests enjoyed gourmet appetizers, cocktails and decadent desserts from some of Denver's top restaurants, including Safta, Le Bilboquet, Jing, Narrative, Ocean Prime, Postino, Birdcall, and Dessert Holdings.
Other major sponsors of Rev the Runway included:
Couture Sponsors:
The Chotin Foundation
Faye & Steve Demby
Deborah & Jim Frank
Kristen & Marc Holtzman
Elizabeth & Steve Kris
MDC/Richmond American Homes Foundation and Bonnie and David Mandarich
Iris & Michael Smith
Style-Driven Sponsors:
Bender West Foundation
Audree and Michael Bloom
Brockman Group LLC
Debbie & Michael Feiner & Family
Denver Agency - A Gallagher Group
Elise LoSasso & The Agency
Mariellen & Bob Guerra
Gold Crown Foundation
Leonard & Alice Perlmutter Charitable Foundation
Toni & David Roitman - BWAB Oil and Gas
Joey Wasko
Claudine & Steve Woodward
Margot Zaterman & Amy Zaterman Seltzer
Media Sponsors:
CBS Colorado
Colorado Expression Magazine
See the complete list of sponsors here.

National Jewish Health is the leading respiratory hospital in the nation. Founded 124 years ago as a nonprofit hospital, National Jewish Health today is the only facility in the world dedicated exclusively to groundbreaking medical research and treatment of children and adults with respiratory, cardiac, immune and related disorders. Patients and families come to National Jewish Health from around the world to receive cutting-edge, comprehensive, coordinated care. To learn more, visit the media resources page.
Media Resources
---
We have many faculty members, from bench scientists to clinicians, who can speak on almost any aspect of respiratory, immune, cardiac and gastrointestinal disease as well as lung cancer and basic immunology.
Media Contacts
---
Our team is available to arrange interviews, discuss events and story ideas.